Learning Jyotisha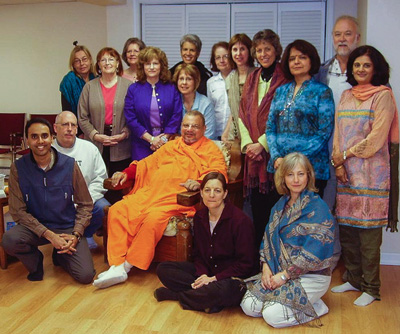 Jyotisha is an oral tradition in which the role of the teacher is to cultivate the judgment of the student. Facts can be learned from a book but the gift of discrimination comes only through the interaction between teacher and student.
I am very fortunate to teach in a setting where not only are these interactions possible, but the whole program is nourished by the lively support of an ashram environment. Students have their housing and meals in the perfect setting for learning these subjects and are welcome to participate in ashram programs during their stay.
Though the in-person classes are the most ideal, due to the constraints of the Western life style, I have structured different modalities to suit the needs of our times without losing personal access and interaction.
I am also fortunate to now be teaching at Sampoorna College of Ayurveda in Miami Lakes, FL. Though not an in-residence facility, it is a lovely space enlivened by the fine programs offered there and the high quality of the students.
Jyotisha Basics Series
Jyotisha Basics: The Beginning of the Journey
The ancient land of India has nourished and transmitted its wisdom through the ages and given us the tools to understand the karmic "backpack" we bring into this life. This journey begins with a strong foundation so that all the principles of Jyotisha to follow will have a solid basis.
Jyotisha Basics I
The Jyotisha Basics series I teach at both Arsha Vidya Gurukulam in Saylorsburg PA and Sampoorna College of Ayur Veda in Miami Lakes starts off with beginners and experienced students. Feedback from even advanced students taking the class indicates that it is helpful in filling in gaps in knowledge and giving a greater appreciation of the beautiful tradition that has nourished this wisdom through the ages.
After the weekend, students are supported by online "Digestion" classes that keep the material fresh and assimilated.
Basics I serves as a prerequisite for the rest of the series, though in some cases, exemptions may be granted.
Jyotisha Basics Online
Basics I is also offered online in a series of ten weekly one-hour classes. I strive to align this platform as closely as possible with traditional teaching; so each class is limited to seven students. This allows me to actively encourage, engage, interact with and question each student during the session.
This lively exchange insures that the experience is not passive and transactional but rather it actively cultivates thinking and is therefore a transformational experience. Students are also expected to do homework to promote engagement with the material.
The goal of this class is to create a group mind and shared understanding of key terms that gets further cultivated through Basics II and III. Upon completion, students join ongoing Digestion and Content classes geared to their level. These classes are also limited to seven students. Tutoring is also available for additional support and of course students can join the in-residence program as their lifestyle permits.
Jyotisha Basics I online is scheduled "on demand" when I have a group of 5 to 7 students who have contacted me to indicate that they are interested in beginning the program.
Basics II (In residence and online)
This is a crucial class for clearly understanding one of the most fundamental levels of analysis – Bhava Vicara (House analysis). We spend the weekend going step-by-step through methodologies that enable a student to generate a huge amount of remarkably accurate and relevant information about a horoscope. It serves as the script for any reading.
Basics II is the prerequisite for all the rest of the Basics series which will build sequentially.
Basics III (In residence and online)
Basics III is the first of the weekends in which we undertake a thorough study of astrological yogas. Though most students of Jyotisha have encountered yogas, they often wind up being cataloguers rather than interpreters of these fascinating combinations. Yogas are integral to understanding the size of the canvas on which people will play out their karmas for this lifetime. This seminar provides core information on how to understand the underlying message of these yogas and how to qualify and prioritize them.
Basics IV (In residence and online)
Traditionally, the triangle of teacher, student and the precepts collected in the ancient texts provided the essential ingredients for perpetuating and learning Jyotisha. In the age of the published word and the internet, this structure has largely broken down. This weekend is devoted in part to sharing how these ancient works are organized and exploring some of the keys to unlock the wisdom contained in them. A major section of the class is devoted to how to interpret rather than just catalogue yogas that appear in a chart. Rounding off the class is a unit on planetary dashas including Rahu and Ketu.
Post-Basics Studies
I offer a rich menu of content classes both as in-person seminars and as online experience. Students taking content classes online must simultaneously participate in "Digestion Classes" (minimum one class every other month). A full description of the online program (mechanics, cost, policies etc.) is available upon request as are sample calendars of the offerings.
The full calendar of online classes is available to continuing students. Contact Penny for details